Work Style Reform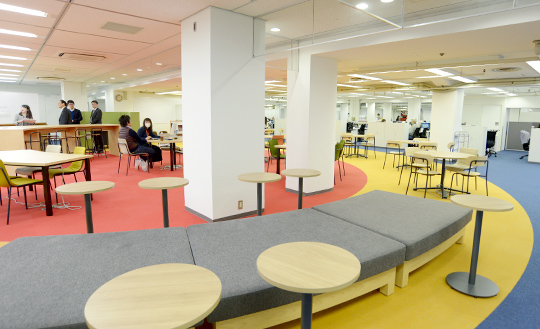 Laying down groundwork for creating group synergy with our CEDS office reform project
Group companies were integrated into the ONISI headquarters with one centralized office floor.
Through the CEDS project, we have realized new office facilities and established work style rules, which generates group synergy as "ONE ONISI" and accelerates to create more added values for further growth.
What underlies the CEDS project
CEDS is a code name designed upon project launch, which also represents the mission of the project. Each letter of CEDS stands for a keyword that underlies the project:
C (Cross)

OUDAN

–

Cross group barriers

E (Evolution)

SHINKA

–

Evolve to a highly value-added company

D (Design)

KIKAKU

–

Give shape to design and wisdom

S (Space)

KUKAN

–

Produce an office space
The word "CEDS" can be pronounced "chie-dasu" in Japanese, which can mean "Give wisdom".
For this reason, the CEDS is not a mere project name, but also the word that affects employee's behavior.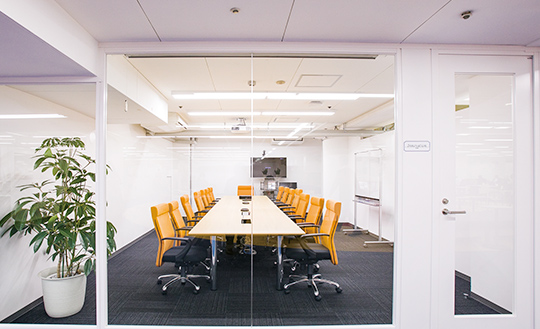 Efforts to increase intellectual productivity both in tangible and intangible aspects
[Tangible] Office environmental facilities
Based on the ABW (Activity Based Working) philosophy, by crossing sectional barriers and freely choosing the place to work, we have introduced workstyle-specific seat layout that stimulates communication and produces creative results.
[Intangible] Work style rules
We have created the "5S for Work Style" guidelines for our operation. The 5S consists of five initial letters of words for office activities (1. SEIRI (Sort), 2. SEITON (Straighten), 3. SEISOU (Shine), 4. SEIKETSU (Standardize) and 5. SHITSUKE (Sustain)).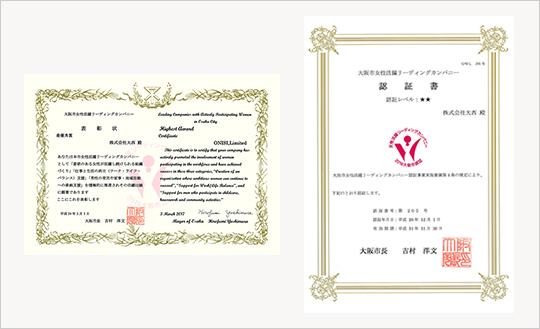 Initiatives regarding the promotion of women's active participation
In November 2013, the ONISI group launched a "Team Women" project team for promoting women's active participation.
Focusing on three issues for the promotion of women's active participation ("Raising women's awareness," "Creating opportunities and environments" and "Reforming the organizational culture"), we have so far held "Career design seminar", "Meeting for exchange of views on career", etc.
On December 1, 2016, the ONISI group was certified by Osaka City as a "Leading company with Actively Participating Women", or a company actively promoting organization that allows women to continue to succeed and support for work-life balance, etc. It was also awarded the top prize in 2016 "Leading Companies with Actively Participating Women in Osaka City" by Mayor of Osaka.
Action plan for the "promotion of women's active participation"
Two quantitative goals listed below are expected to be achieved by March 31, 2020:
The percentage of women in managerial positions (chief and higher positions) shall be 20% or more.
The average monthly overtime hours of operational positions shall be 10.0 hours or less.
Support for balancing work and family life
Introduction of no-overwork days
To achieve the virtuous cycle of work style (work-life balance), we have been striving to allow employees to leave work on time twice a week since April 2010.
Through business improvement, etc., we also consider the possibility of adding more days of the week.
Half-day paid leave system
In September 2010, it became possible for employees to take "half-day paid leave". This system encourages them to take paid leave so that they can lead a fulfilling life in mind and body, increases job quality and productivity, and creates a work-friendly environment.
Introducing a limited-work-location course for key positions
(*The key position is equivalent to a section chief or chief, whose work location is normally unlimited.)
Considering diversified work styles, we established a new course in September 2016, where an employee's work location is limited and he/she engages in key-position job.
Promotion tests available soon after return to work
When an employee who met promotion requirements and then took leave is back to work in two years, he/she may take the promotion test right after return to work. This system started in September 2016.
Use of a shorter working hours system for child care
An applicable employee is entitled to short working hours for a period longer than the legal one (until March 31 of the year when his/her child completes the third grade of primary school).
The working hours can be shortened by up to 1.5 hours, using a time frame of 30 minutes.
Support for men's participation in child care, housework and community activities
"Child Care Handbook — Support for Balancing Work and Child Care –" was created to describe the systems male employees can use as well.
Onisi kindergarden
In April, 2019, ONISI, Ltd. opened a company-led day care, Onisi kindergarden so as to support work life balance for our employees.
For communities and environment
The ONISI group strives to contribute to society as a company willing to connect with local communities and trusted by them.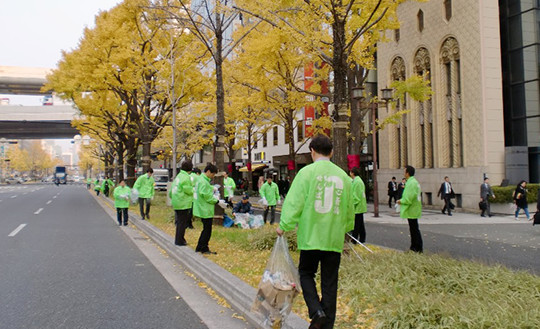 Cleaning in Midosuji Street
"Society for Cleaning Midosuji Street" was set up as a community activity in 1975. The ONISI group agreed to the purpose and its employees have been participating in the cleaning activity every single month for more than 30 years from its start.